The stochastic oscillator is a momentum indicator comparing the closing price of a security to the range of its prices over a certain period of time.
The stochastic oscillator is in overbought zone, above 80. This indicates a potential short trade
We can confirm this with The Bollinger Bands Indicator.
Price is penetrating above Higher Band and closing below it. This signals a failed breakout and a potential reversal, seting up a short trade.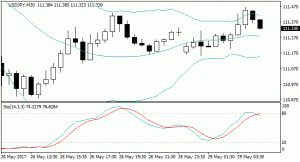 Related:
OHLC Price Action Trading Technique